WARNING: This post has nothing to do with fashion
I apologise for the lack of post these pass few days, i guess someone must have been cursing me because suddenly my face became a great place for pimples to move in and live in. infestation at it's best. and me being the vain bitch that I am, am refusing to snap any shots of the horrendous sight. not forgetting that i am unable/too busy to go restock my Ettusai Acne concealer that usually work so well, without it i feel naked and urm ugly. grr.
Anyway, to prove that I've not died or something. here's a summary of the days of my lifee...Pardon the lousy pictures (except for friday), the weight gain & horrid skin! *ahh!*
Fri I went to town
with my colleague to stock up our mini-booklet (will be posting the september spread soon), snap a couple of pictures then..
I love this outfit i'm wearing but i havent got around to posting it up yet, will post it ASAP!!! Oh yes, the Don't panic box is NOT our flyers, but its a really cool new pack thing where they give out for free to people containing loads of goodies....yum!
Then I
partied like a mad dog on Sat
, As you can see we are all pretty stoned, well me at least, and yes, please invest in a good concealer because your skin will look absolutely patchy and splotchy if you use cheap ones!
& I can assure you, that night, there was plenty of laughter and dose of giggles...i think i did see my rainbows and unicorns..*grinz*
Followed by Sunday
, where me and the girls met up to celebrate
Mr Leslie Kai Kai's Birthday,
as you can see he likes to pose..and im not the only one who does the pout..hahahah..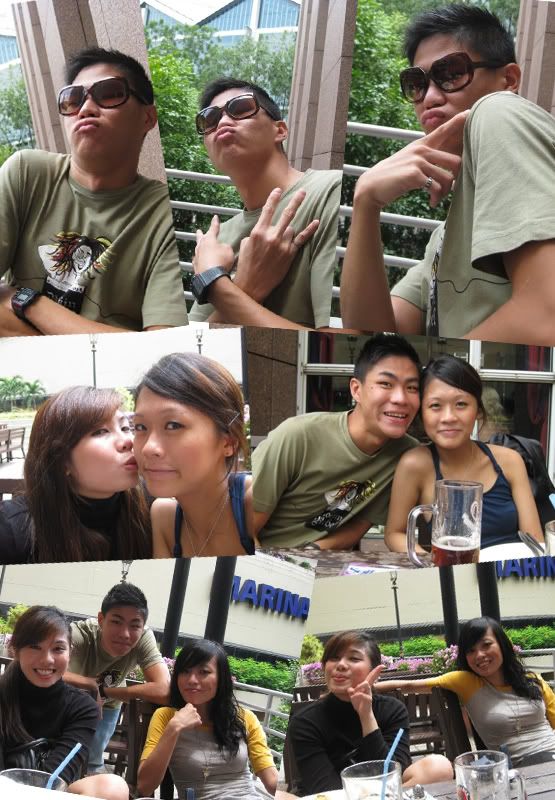 We had buffet brunch at Paulagners, amazing food, was full like mad, and was in no mood to dress up especially since we party the day before and had to wake early for this.
Finally,
Tuesday, celebrated my small anniversary
with the boy..At the quaint Miss Clarity Cafe near Bras Basah. The food was great and really affordable!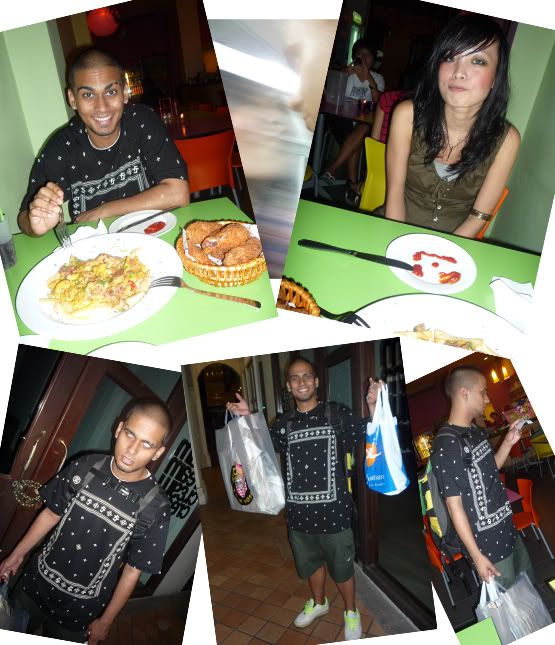 In the picture you can see him a ghostly face which freaks me out to bits especially since we watch
4bia
on Sunday and I have been getting nightmares since..GRR!..here's him holding my bag of present!...i actually thought it was a bear since the plastic was "More than words" and i was like "that better not be a bear" him playing along said "oh how did you guess it..." fuck..disappointed and everything at first as i was never a girl who likes bears..flowers...soft toys..wadever....
Than came gift giving time..yay yay yay..the boy had no idea i had something for him.
Can you imagine my shock when i tear open the wrapper i find the ultimate shoe i've been lusting after!!!!!!!!!!!
LACED UP POINTED UNDERGROUND LOAFERS FROM QUEENS COUTURE!! AHHH!!!!!

And yes, I correct myself I did died and go to heaven then and there.....
Then came giving the boy his gift...a compilation of six items representing the times we've had together.
My gift is not as expensive..but HEY it's the thought that counts! And it did brought some tears..heh.
And thats all i've been doing..Will update about something related to fashion the soonest i promise!
Also, look out for how I intend to match my new yummy shoes! yay!....
Current Mood:
cheerful