Wow I just couldn't resist myself, despite my mounting debts and my overflowing shoe cabinets. I just couldn't resist splurging on these 4inches high heels which I would probably NEVER wear since the boy is short. DAMN. what the hell is wrong with me?
I suppose its the endless drooling over Charles & Keith Signature Line Heels, Topshop fabulous fringe sandals & Aldo fab high inches that really got me. plus i kept telling myself who cares its less than 50 each, which is lesser than what I'm spending in any of these shops. grr. the trauma of online shopping!
So here's what I bought
I'm desperately in love with the fringe sandals i bought even though I wanted something similar from Forever21's...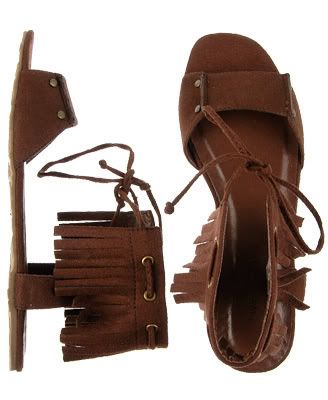 Forever21 Version
Well since my dear locofruitcake is organising a GoJane Spree i might as well spree away there. GRR. How does something that makes you feel so good yet makes you feel so guilty at the same time. Ah, the pure senseless indulgence of online shopping. clicks away and only when you see your bank a/c do you feel the pinch. DOINK!