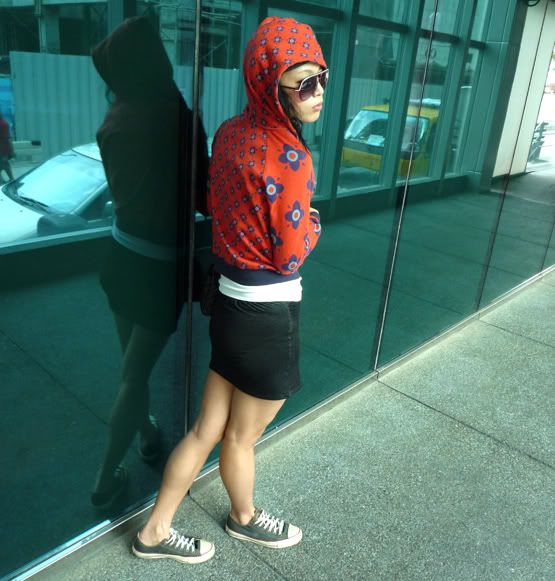 I don't know why, but I feel good these pass few days, and I would like to attribute it to good rest. I've been in the mood to dress up ever since the bloat gone down a wee bit. yay. anyhoo, i THOUGHT it be cold today, but it was so NOT, but i went ahead with the look. I dug out my old Marc Jacobs Flower power jacket lol. and I threw on a headband, a couple of chains and rushed out of the house. Well, clearly the outfit was planned at night (when it was raining) because the weather is freaking hot today! Nevertheless, out and about we went to take a couple of cool shots today. YAY to my colleague who is back and also well rested! Thus, I conclude we who are well rested are more creative. *grinz*

Warning: Pictures Overload!!!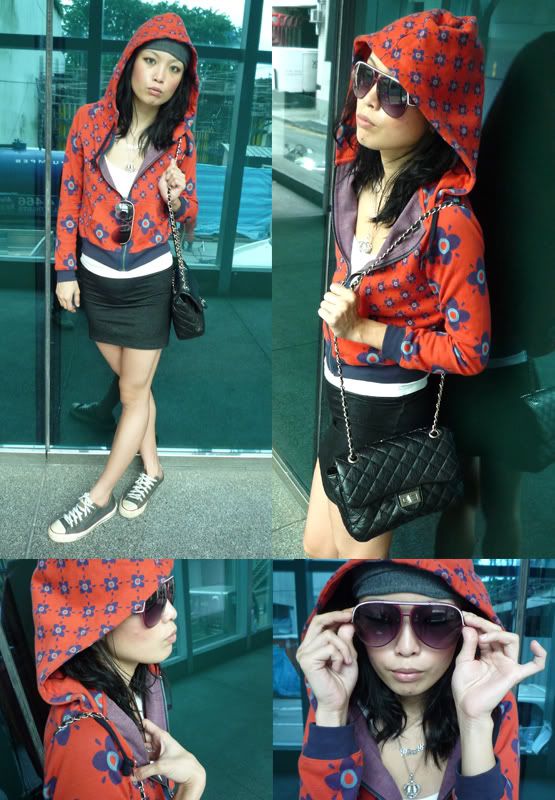 Anyway, the headband was bought 2 years back from Forever21, I never did dare to wear it, especially since headband makes one face rounder, but I decided to fuck it and go for the sporty look today. I really hate things on my head! Its so hard to wear! Plus, the weather is extremely hot, and I thought the headband was suppose to make you feel cooling, but hell is it warm and humid to wear! After the shoot, i tried to take it out to cool out but my hair look like a freak after. so im stuck with it.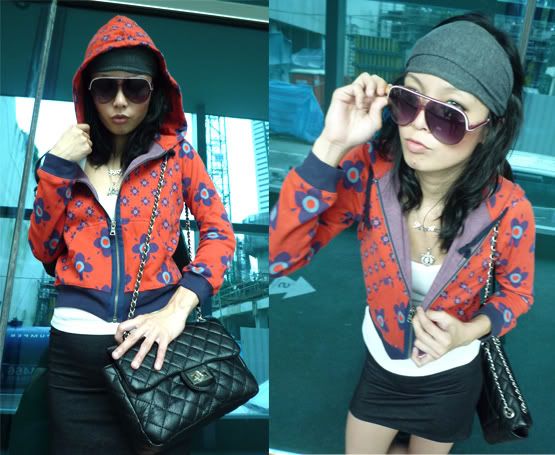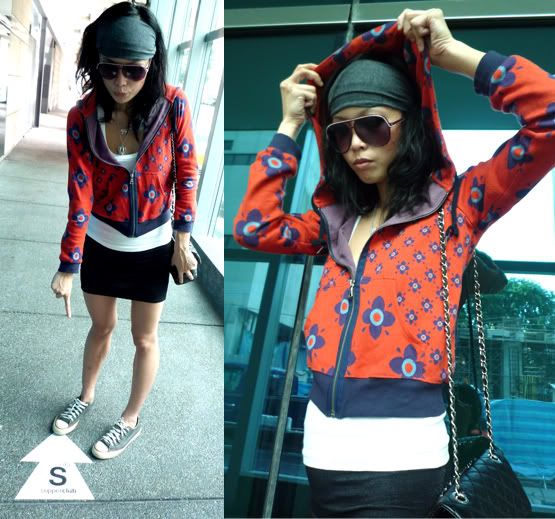 We went to Penisula to find my Dr Martens look alike that cost only $49.00, needless to say there is a reason why the actual Dr Martens is $189 because the $49 rip off is totally not working, its so weird and the cut was so bulky, i looked like a construction worker. infact, the shop owner actually asked me if I was going to do any heavy duty work for it. he was like "Is this for work?" WAD?! sigh and I thought it would suit the look today, but ol well, sticking to good old converse. Sigh, saving for the day where I can buy my Dr. Grrrrrr.

What I'm Wearing
Orange Flower Prints Jacket - Marc Jacobs
Crown Necklace - Courtesy of my colleague who bought it for me
Playboy Necklace - 2cm
Red Lined Shades - BOUGHT FROM AUSTRALIA! WOO!
Grey Headband - Forever21
Current Mood:
chipper